Volume 14 Number 1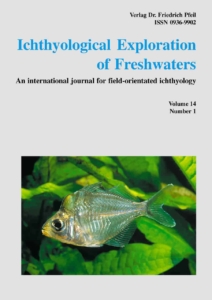 March 2003
pages 1-96, 50 figs., 16 tabs.
Willink, Philip W., Barry Chernoff, Antonio Machado-Allison, Francisco Provenzano and Paulo Petry: Aphyocharax yekwanae, a new species of bloodfin tetra (Teleostei: Characiformes: Characidae) from the Guyana Shield of Venezuela (p. 1)
Kottelat, Maurice: Parambassis pulcinella, a new species of glassperch (Teleostei: Ambassidae) from the Ataran River basin (Myanmar), with comments on the family-group names Ambassidae, Chandidae and Bogodidae (p. 9)
Norris, Steven Mark, Jared M. Fischer and W. L. Minckley: Gila brevicauda (Teleostei: Cyprinidae), a new species of fish from the Sierra Madre Occidental of México (p. 19)
Costa, Wilson J. E. M.: The Simpsonichthys flavicaudatus species group (Cyprinodontiformes: Rivulidae: Cynolebiatinae): phylogenetic relationships, taxonomic revision and biogeography (p. 31)
Schliewen, Ulrich K. and Melanie L. J. Stiassny: Etia nguti, a new genus and species of cichlid fish from the River Mamfue, Upper Cross River basin in Cameroon, West-Central Africa (p. 61)
Cardoso, Alexandre Rodrigues and Paulo Henrique Franco Lucinda: Three new species of Hemiancistrus (Teleostei: Siluriformes: Loricariidae) from the rio Tocantins basin with comments on the genus (p. 73)
Lippitsch, Elisabeth: Redescription of 'Haplochromis' nubilus (Teleostei: Cichlidae), with description of two new species (p. 85)
Book review (p. 96)
Volume 14 Number 2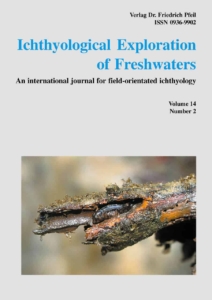 April 2003
pages 97-192, 66 figs., 17 tabs.
Ramos, Robson Tamar da Costa: Systematic review of Apionichthys (Pleuronectiformes: Achiridae), with description of four new species (p. 97)
Ngatunga, Benjamin P. and Jos Snoeks: Lethrinops turneri, a new shallow-water haplochromine cichlid (Teleostei: Cichlidae) from the Lake Malawi basin (p. 127)
Hrbek, Tomas and Rudolf H. Wildekamp: Aphanius villwocki, a new species from the Sakarya River basin of central Anatolian plain, Turkey (Teleostei: Cyprinodontiformes) (p. 137)
Piller, Kyle R., Henry L. Bart Jr. and Jason A. Tipton: Spawning in the black buffalo, Ictiobus niger (Cypriniformes: Catostomidae) (p. 145)
Poly, William J. and James E. Wetzel: Transbranchioral spawning: novel reproductive strategy observed for the pirate perch Aphredoderus sayanus (Aphredoderidae) (p. 151)
Vidthayanon, Chavalit and Maurice Kottelat: Three new species of fishes from Tham Phra Wang Daeng and Tham Phra Sai Ngam caves in northern Thailand (Teleostei: Cyprinidae and Balitoridae) (p. 159)
Sazima, Ivan and Alfredo Carvalho-Filho: Natural history of the elusive blenny Lupinoblennius paivai (Perciformes: Blenniidae) in coastal streams of southeast Brazil (p. 175)
Fitzsimons, J. Michael, Mark G. McRae, Heiko L. Schoenfuss and Robert T. Nishimoto: Gardening behavior in the amphidromous Hawaiian fish Sicyopterus stimpsoni (Osteichthyes: Gobiidae) (p. 185)
Volume 14 Number 3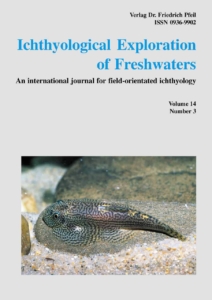 October, 01 2003
pages 193-288, 41 figs., 23 tabs.
PDF López-Fernández, Hernán and Kirk O. Winemiller: Morphological variation in Acestrorhynchus microlepis and A. falcatus (Characiformes: Acestrorhynchidae), reassessment of A. apurensis and distribution of Acestrorhynchus in Venezuela (p. 193)
PDF Schulz, Michael and Jörg Freyhof: Coregonus fontanae, a new spring-spawning cisco from Lake Stechlin, northern Germany (Salmoniformes: Coregonidae) (p. 209)
PDF Britz, Ralf: Danionella mirifica, a new species of miniature fish from Upper Myanmar (Ostariophysi: Cyprinidae) (p. 217)
PDF Kottelat, Maurice and E. Zhang: Type fixation for Parasinilabeo Wu, 1939 (Osteichthyes: Cyprinidae) (p. 223)
PDF Freyhof, Jörg: Sewellia albisuera, a new balitorid loach from Central Vietnam (Cypriniformes: Balitoridae) (p. 225)
PDF Bockmann, Flávio A. and Alexandre C. Ribeiro: Description of a new suckermouth armored catfish of the genus Pareiorhina (Siluriformes: Loricariidae), from southeastern Brazil (p. 231)
PDF Chen, I-Shiung and Maurice Kottelat: Papuligobius uniporus, a new genus and species of freshwater goby (Perciformes: Gobiidae) from north-eastern Laos (p. 243)
PDF Axenrot, Thomas E. and Sven O. Kullander: Corydoras diphyes (Siluriformes: Callichthyidae) and Otocinclus mimulus (Siluriformes: Loricariidae), two new species of catfishes from Paraguay, a case of mimetic association (p. 249)
PDF Weber, Axel, Giuliana Allegrucci and Valerio Sbordoni: Rhamdia laluchensis, a new species of troglobitic catfish (Siluriformes: Pimelodidae) from Chiapas, Mexico (p. 273)
PDF Barbosa, Maria Anaïs and Wilson J. E. M. Costa: Trichomycterus potschi (Siluriformes: Loricarioidei): a new trichomycterid catfish from coastal streams of southeastern Brazil (p. 281)
Volume 14 Number 4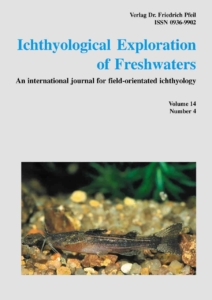 December, 01 2003
pages 289-384, 55 figs., 17 tabs.
PDF Costa, Wilson J. E. M.: Moema heterostigma, a new annual fish (Cyprinodontiformes: Rivulidae) from the Brazilian Pantanal, Rio Paraguay basin (p. 289)
PDF Berra, Tim M.: Nurseryfish, Kurtus gulliveri (Perciformes: Kurtidae), from northern Australia: redescription, distribution, egg mass, and comparison with K. indicus from southeast Asia (p. 295)
PDF Vidthayanon, Chavalit: Schistura pridii, a new nemacheiline loach (Teleostei: Balitoridae) from Upper Chao Phraya drainage, northern Thailand (p. 307)
PDF Ng, Heok Hee and Jörg Freyhof: Akysis clavulus, a new species of catfish (Teleostei: Akysidae) from central Vietnam (p. 311)
PDF Sparks, Wilson J. E. M.: Taxonomic status of the Malagasy cichlid Ptychochromis grandidieri (Teleostei: Cichlidae), including a molecular phylogenetic analysis of the ptychochromine cichlids (p. 317)
PDF Casciotta, Jorge R., Adriana E. Almirón and María de las Mercedes Azpelicueta: A new species of Astyanax from río Uruguay basin, Argentina (Characiformes: Characidae) (p. 329)
PDF Gérard Loubens: Biologie de Plagioscion squamosissimus (Teleostei: Sciaenidae) dans le bassin du Mamoré (Amazonie bolivienne) (p. 335)
PDF Fernández, Luis and Scott A. Schaefer: Trichomycterus yuska, a new species from high elevations of Argentina (Siluriformes: Trichomycteridae) (p. 353)
PDF Centofante, Liano, Luis Antonio Carlos Bertollo, Álvaro José Justi and Orlando Moreira-Filho: Correlation of chromosomal and morphologic characters in two Astyanax species (Teleostei: Characidae) (p. 361)
PDF Bogutskaya, Nina G. and Primoz Zupancic: Phoxinellus pseudalepidotus (Teleostei: Cyprinidae), a new species from the Neretva basin with an overview of the morphology of Phoxinellus species of Croatia and Bosnia-Herzegovina (p. 369)