Viruses to kill bacteria
Karin Moelling
Karin Moelling
Viruses to kill bacteria
A way out of the antibiotics crisis with phages – the viruses of bacteria
2021. [English translation of the original german edition] - 200 pages, 121 figures in colour.
Paperback, 24 × 17 cm
ISBN: 978-3-89937-270-0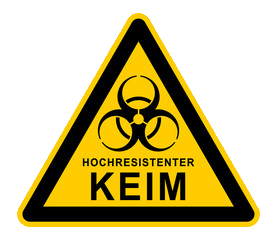 A virus changes the whole world. It has claimed millions of lives. But viruses are not just destroyers or causes of diseases. They can also become our allies and help us fend off other dangerous germs. These are the multi-resistant bacteria that are increasingly threatening us and against which our best weapons, antibiotics, are increasingly failing. There are viruses that specifically kill bacteria – only bacteria. That is what we are talking about here. They have been known for over 100 years and have been almost forgotten about. But now, with the increase in multidrug-resistant bacteria, these viruses are remembered. They have their own name, bacterio­phages or phages, meaning the "bacteria eaters". The dangerous bacteria threaten not least the corona patients in the intensive care units, but all of us, not only in hospitals, also in the case of injuries, in our waters, in animal husbandry. Phages are everywhere and are harmless. Here is described what they could do in our health system – and what they couldn't. The therapeutic effort is enormous, is personalized medicine and may only be a bridge until we discover new antibiotics – and then the two will be needed together. The book is easy to understand as in a lecture for laypeople, students, doctors and patients, as in a lecture with many pictures. However, there is also an appeal to readers and authorities that we need more research and that the legal requirements make this difficult, even hinder progress. Viruses for cure are based on real scientific evidence, not belonging to complementary medicine. SARS-Corona Virus-2 has shown that we can accelerate more than ever before. It must be done quickly so that we can avoid an antibiotic crisis as the next disaster.
We're here for you
Verlag Dr. Friedrich Pfeil
Wolfratshauser Str. 27
81379 Munich – Germany
Tel.: +49 89 55 28 6000
Fax: +49 89 55 28 6004
Mail: info@pfeil-verlag.de
Foreword (p. 6)
1 A cut-off toe (p. 9)
With phages against resistant bacteria (p. 9)
Multi-drug-resistant bacteria (p. 10)
Premature infant wards (p. 12)
The secret of dung heaps (p. 14)
2 Phages – sea, sand and stars (p. 17)
Phages are everywhere (p. 18)
Phages – dead or alive? (p. 22)
Phages with two lives (p. 26)
3 Miraculous healings of Jesus and others (p. 33)
Leprosy cure (p. 34)
St. Mark in Venice (p. 34)
Spores for tracking Hannibal and on the ISS (p. 36)
4 The Ganges Effect (p. 39)
5 Locusts and detoxified wells (p. 45)
Beginnings of phages – Frederick Twort (p. 45)
Félix d'Hérelle (p. 46)
The first soldier (p. 47)
Centennial for the phages (p. 50)
Enfants malades (p. 52)
Detoxifying water wells (p. 53)
Commercial production (p. 56)
Brazil (p. 57)
6 War and peace (p. 60)
Georgi Eliava Institute (p. 60)
Murder (p. 61)
Devastating verdict (p. 62)
The survival of phages (p. 63)
7 Phage therapy in the GDR (p. 68)
8 Stool transplantation against resistant bacteria (p. 72)
The Zurich case with stool transplantation (p. 72)
The microbiome and virome in the gut (p. 75)
Are phages sufficient instead of stool transfer? (p. 78)
Plankton and gigaviruses (p. 80)
"Yellow soup" and "Dirt pharmacy" (p. 82)
9 Gallows test – gut-brain axis (p. 86)
Overweight (p. 86)
Butterflies in the stomach (p. 87)
Fear of the gallows (p. 88)
Lynn can't lose weight (p. 90)
Do antibiotics make you fat? (p. 91)
From old to young (p. 93)
10 Successes and failures – learning from mistakes (p. 94)
Ear infection with phage therapy (p. 94)
PhagoBurn: Treatment of burns (p. 95)
Diarrhea in Nestlé trial (p. 96)
Chronic urinary tract infections (p. 98)
11 Individual medical healing (p. 101)
Tom with life-threatening sepsis (p. 101)
Open fracture (p. 105)
Phages – straight to the heart (p. 106)
Three million diabetic toes (p. 108)
Cystic fibrosis (p. 111)
The Saint-Luc baby with trained phages (p. 114)
12 Phage research – especially for molecular biologists –
and poisonous lettuce shoots (p. 116)
Max Delbrück and the "Phage Group" (p. 117)
A jumping phage (p. 119)
More Nobel Prizes (p. 122)
Toxic gene – the case of EHEC (p. 124)
13 Guidelines: Phages are (not) a drug –
for those interested in the law (p. 127)
What is a drug? (p. 127)
The Declaration of Helsinki (p. 129)
GMP manufacturing (p. 131)
Phages today (p. 133)
Phages form swarms (p. 135)
Belgium as a role model? (p. 138)
But no GMP? (p. 140)
14 Salmon with phages (p. 142)
Instead of "phage therapy" – phages for cure! (p. 144)
NATO meeting and the military (p. 146)
"Phages" against traveler's diarrhea (p. 147)
15 Future – new shoes for phages, broad-spectrum phages (p. 149)
Phages plus antibiotics (p. 149)
Phage projects (p. 150)
New shoes for phages (p. 152)
Pertussis with flaws (p. 155)
Patents and the pharmaceutical industry (p. 157)
16 With fecal transfer against cancer? (p. 159)
17 Phages and environmental pollution (p. 164)
One Health (p. 164)
40000 chickens (p. 165)
China and air pollution 167)
Viruses – friends or foes? (p. 169)
18 Documents (p. 171)
Literature (p. 184)
Index (p. 196)
Copyrights of illustrations (p. 200)
At the time of the SARS-Coronavirus-2 pandemic, all my invitations to give lectures, talks, scientific meetings or international congresses were cancelled.
Only virtual communication and thinking about phages remained instead of audiences. Phages are my great concern.
Instead, a book was created, in style, structure and illustrations like the lectures. It combines prior knowledge, for scientists, medical doctors, to Rotary clubs and concerned lay people. Above all, like a lecture, this book is aimed at students, many of whom wanted to start researching and helping people right away.
This is not about the viruses of infectious diseases, not about the100 million deaths from the Spanish flu (1918), the forgotten Hong Kong flu (1968), or the swine flu (2009), all triggered by influenza viruses that kill up to 650000 people worldwide every year and recur as pandemics about every 40 years. We are not talking about Corona, HIV/AIDS, Ebola, or Zika viruses. This is about the viruses of bacteria, and they have their own name, phages or bacteriophages: that is, bacteria eaters.
Viruses are of much more general importance to our world, our ecosystem, our evolution, even our genetic makeup. They may even have been involved in the origin of life. Viruses are parts of the microbiome, the totality of microorganisms, for 3.8 billion years on our planet. They are the most successful species. For there are about 1033 virus particles on the Earth, many of them in the oceans. Almost all of them are harmless. Bacteria, their hosts, are almost as numerous.
Phages multiply in bacteria – and can dissolve them. While this is a natural process, it can be exploited. Bacteria, especially multi-drug-resistant bacteria against which antibiotics are ineffective, are becoming a global threat to humanity. Antibiotic-resistant bacteria, the superbugs, catch up with us in hospitals, while traveling, in rivers, in the air or in food. They often end in deadly sepsis. The development of new antibiotics has come to a standstill. Last-resort antibiotics are failing with increasing frequency. 700000 people die from multi-drug-resistant bacteria every year worldwide and are expected to be the number one cause of death with ten million fatalities at the latest in 2050.
Phage researchers keep stressing the motto: "The enemy of our enemy is our friend". We  should be allies of phages against resistant bacteria.
We need phages at least as interim solutions. Until we get new more antibiotics – which may take long, too long. So, in between the phages may help to fill a gap. Yet, for their use we need personalized treatment and have to overcome bureaucratic obstacles first!
A 100-year-old method is the treatment of bacterial infections by phage therapy. We need to revive it, characterize phages, store them in phage banks, simplify applications, organize production and supply chains and free them from high regulatory burdens. Only then can we find out what phages really will be able to do, whether they will save us – at least as emergency solutions and as a way out of the ongoing antibiotics crisis – until new antibiotics become available.
This book provides clues on what we know and what we should learn and achieve – but also shows how difficult the path is. Several case reports illustrate, how much effort is needed to apply phage therapy, each case is special and personalized medicine. Very recently a new and exciting focus of research has opened up, the role of gut microbiome and phages in cancer immunotherapy. Can one simplify the therapy, standardize it, speed treatments up? Can phages or components thereof be supplied as pills? Combined with new antibiotics? We need new and more antibiotics anyway and then in combination with phages. These are questions presented to the reader waiting for answers.
To avoid a misunderstanding; I am not discussing "alternative medicine" or "complementary medicine" which is not based on science or evidence, not testable or not tested. What is described here is an almost forgotten approach to use viruses for cure.
Perhaps the SARS coronavirus-2 pandemic is a frontrunner, which shows what is possible when things have to happen fast.
Prof. em. Prof. h. c. Dr. Karin Moelling is a virus and cancer researcher. After studying physics and graduating in astrophysics, she turned to molecular biology and retroviruses in 1969 with a scholarship from the Study Foundation in Berkeley, California, USA. She spent 20 years researching viral cancer genes and HIV/AIDS at the Max Planck Institute for Molecular Genetics in Berlin. She discovered a new viral gene as well as a new cancer gene. In 1993 she became Professor and Director of the Institute of Medical Virology at the University of Zurich with research, teaching and virus diagnostics for the University Hospital – including bioterrorism! She was also appointed an Honorary Professor at the Charité in Berlin. She has published over 250 original scientific peer-reviewed publications. She has published books on the "AIDS Virus", as well as "Viren – Supermacht des Lebens" (German) and "Viruses – more Friends than Foes" (English) with up-to-date information on Corona viruses. It has been translated into English, Russian and Chinese. Karin Moelling was a Fellow at the Institute for Advanced Study at Berlin and visitor at Princeton, and has received numerous awards such as the German Cross of Merit (2018) and the Swiss Award for "Society" (2007).
We're here for you
Verlag Dr. Friedrich Pfeil
Wolfratshauser Str. 27
81379 Munich - Germany
Tel.: +49 (89) 742 827-0
Fax: +49 (89) 724 27 72
E-Mail: info@pfeil-verlag.de