Volume 9 Number 1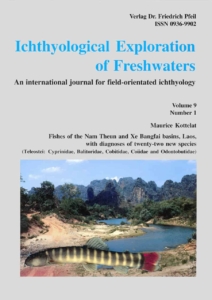 July 1998
pages 1-128, 194 figs., 14 tabs.
Kottelat, Maurice: Fishes of the Nam Theun and Xe Bangfai basins, Laos, with diagnoses of twenty-two new species (Teleostei: Cyprinidae, Balitoridae, Cobitidae, Coiidae and Odontobutidae) (p. 1)
Volume 9 Number 2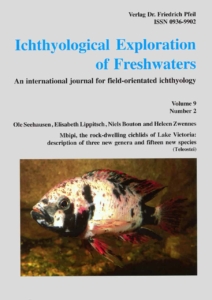 July 1998
pages 129-228, 6 pls., 33 figs., 18 tabs.
Seehausen, Ole, Lippitsch, Elisabeth, Bouton, Niels and Heleen Zwennes: Mbipi, the rockdwelling cichlids of Lake Victoria: description of three new genera and fifteen new species (Teleostei) (p. 129)
Volume 9 Number 3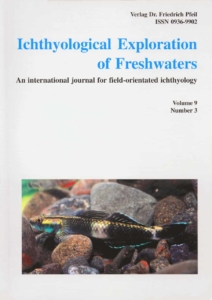 November 1998
pages 229-324, 57 figs., 18 tabs.
Casatti, Lilian and Ricardo M. C. Castro: A fish community of the São Francisco River headwaters riffles, southeastern Brazil (p. 229)
Malabarba, Luiz R. and Jan K. F. Mahler Jr.: Review of the genus Microglanis in the rio Uruguay and coastal drainages of southern Brazil (Ostariophysi: Pimelodidae) (p. 243)
I-Shiung Chen, Peter J. Miller and Lee-Shing Fang: A new species of freshwater goby from Lanyu (Orchid Island), Taiwan (p. 255)
Hale, Elisabeth A., Jay R. Stauffer, Jr. and Megan D. Mahaffy: Exceptions to color being a sexually dimorphic character in Melanochromis auratus (Teleostei: Cichlidae) (p. 263)
Kottelat, Maurice: Homaloptera a new species of hillstream loach from Borneo, with a new generic name for H. thamicola (Teleostei: Balitoridae) (p. 267)
Berra, Tim M. and Clyde D. Barbour: Is the Chilean Galaxias globiceps (Teleostei: Galaxiidae) extant or extinct? (p. 273)
Menezes, Naércio A. and Carlos A. S. de Lucena: Revision of the subfamily Roestinae (Ostariophysi: Characiformes: Cynodontidae) (p. 279)
Watson, Ronald E., Gerald R. Allen and Maurice Kottelat: A review of Stiphodon from Halmahera and Irian Jaya, Indonesia, with descriptions of two new species (Teleostei: Gobiidae) (p. 293)
Costa, Wilson J. E. M.: Rediscovery and redescription of Cynolebias carvalhoi (Cyprinodontiformes: Rivulidae) (p. 305)
Aarn, Walter Ivantsoff and Maurice Kottelat: Phylogenetic analysis of Telmatherinidae (Teleostei: Atherinomorpha), with description of Marosatherina, a new genus from Sulawesi (p. 311)
Volume 9 Number 4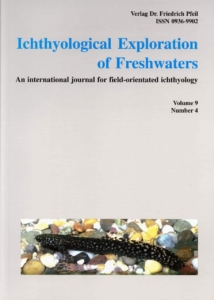 December
pages 325-420, 75 figs., 3 tabs.
Britz, Ralf and Peter Bartsch: On the reproduction and early development of Erpetoichthys calabaricus, Polypterus senegalus, and Polypterus ornatipinnis (Actinopterygii: Polypteridae) (p. 325)
Ng, H. H. and Maurice Kottelat: Hyalobagrus, a new genus of miniature bagrid catfish from Southeast Asia (Teleostei: Siluriformes) (p. 335)
Arratia, Gloria: Silvinichthys, a new genus of trichomycterid catfishes from the Argentinian Andes, with redescription of Trichomycterus nigricans (p. 347)
De Vos, Luc and Lothar Seegers: Seven new Orthochromis species (Teleostei: Cichlidae) from the Malagarasi, Luiche and Rugufu basins (Lake Tanganyika drainage), with notes on their reproductive biology (p. 371)