Coastal Plankton
LARINK, Otto & Wilfried WESTHEIDE
LARINK, Otto & Wilfried WESTHEIDE
Coastal Plankton
Photo Guide for European Seas
2011 [2nd, extended edition]. [in English] – 191 pp., 861 coloured and 68 black-and-white figures (83 colour plates).
24 x 21 cm. Paperback.
[1st edition 2006: ISBN 978-3-89937-062-1]
ISBN: 978-3-89937-127-7
"Book a holiday to the seaside, take this book with you and enjoy the wonderful world of marine plankton! … I have not seen a better beginners guide to the subject … a book that you wished was published years before."
(Wim van Egmond, Microscopy-UK, review of the First Edition)
And here is the Second Edition. Its most evident new feature is the considerable increase in the number of photographs, from 660 to now 930. In particular, numerous Mediterranean species have been added, leading, among others, to the inclusion of entirely new plates on trematodes, sipunculids, pelagic gastropods, several crustacean taxa, enteropneusts, and holothurians.
We're here for you
Verlag Dr. Friedrich Pfeil
Wolfratshauser Str. 27
81379 Munich – Germany
Tel.: +49 89 55 28 6000
Fax: +49 89 55 28 6004
Mail: info@pfeil-verlag.de
Preface of the second edition 6
Preface of the first edition 6
Foreword by the authors – Second edition 7
Foreword by the authors – First edition 7
Introduction
Phytoplankton diversity 9
Zooplankton diversity 10
Pelagic larvae – the meroplankton 10
Life cycles with resting stages 13
Sampling and processing 14
Bacillariophyceae (Diatomeae, Bacillariophyta) 16
Various microalgae: Cyanobacteria. Chlorophyta, Prasinophyceae; Chromista, Prymnesiomonada, and Silicoflagellida; Ebriida 28
Dinoflagellata (Dinophyceae, Pyrrhophyta, Peridineae) 30
Choanoflagellata 38
Foraminifera 38
"Radiolaria" 40
Ciliophora 44
Spirotrichea, Choreotrichia, Tintinnina 48
Porifera 52
Cnidaria 52
Cnidaria, Scyphozoa 56
Cnidaria, Hydrozoa 60
Ctenophora 74
Platyhelminthes 76
Plathyhelminthes, Trematoda, Digenea 78
Nemertea (Nemertini) 80
Mollusca, Gastropoda 82
Mollusca, Bivalvia 88
Sipuncula 90
Annelida, "Polychaeta" 92
Crustacea, Branchiopoda, Cladocera 114
Crustacea, Copepoda 118
Crustacea, Cirripedia 126
Crustacea, Decapoda 130
Crustacea, Peracarida 136
"Rotifera" ("Rotatoria") 140
Phoronida 142
Bryozoa (Ectoprocta) 144
Chaetognatha 146
Hemichordata, Enteropneusta 148
Echinodermata, Asteroida 150
Echinodermata, Ophiuroida 154
Echinodermata, Echinoida 158
Echinodermata, Holothuroida 162
Tunicata (Urochordata) 164
Acrania (Leptocardia, Cephalochordata) 170
Teleostei 172
Miscellaneous 178
Literature 183
Selected internet-addresses of databases with information on marine plankton 185
Index 187
Preface of the second edition
This book was written for persons with a special interest in the plankton organisms of the ocean, or for those who are searching for small animals in sea water. It is part of a series of books on marine science, edited by the Biologische Anstalt Helgoland, AWI, which endeavour to bridge the knowledge and communication gap between the expert and lay person with scientific interests. Thus, it neither requires the reader to be an expert nor does it exclude the expert. Indeed, from the first edition on Coastal Plankton it became clear that apart from the students, experts actually also took a great interest in this book.
In particular, zooplankton experts from all over the world used the first edition widely as supplementary material in their student courses, as it is often rather difficult for students to deal with drawn taxonomic illustrations without a good quality photographic image at their side. Photos of zooplankton enlargements through the microscope have rarely been published as a group of images for specific regions. However, as we know from the number of clicks image websites get, collections of images can be extremely helpful as a start up for the newcomer working on a particular water body. This book is a visual add-on to the classical and non-dispensable keys and taxonomic literature currently available.
In the first edition already many images of micro- and meso-zooplankton and some examples of phytoplankton (see also separate phytoplankton book in this series) were collated mainly from North Sea species. This new edition is substantially thicker, with many more crustaceans, as well as trematodes, sipunculides, holothuria and enteropneusta. In accordance with the increased numbers of organisms of southern warm water origin in the North Sea many Mediterranean species have been added. These additions reflect the fact that the Authors and Editors continually discuss the needs of persons interested in finding out which animals are present in European waters and how to go about visualising them on paper.
The choices made by the authors reflect over 30 years of experience in identifying sea creatures and in particular in investigating seawater under the microscope. The book is laid out so that the user is encouraged and supported in an investigation and so that it can be placed beside the light microscope easily. The book in particular reflects the great enjoyment, and sense of science one can have when seeing what a plankton haul can produce in terms of microscopic life in the oceans.
Enjoy!
Karen Helen Wiltshire
Biologische Anstalt Helgoland, AWI
Preface of the first edition
Way back in the 1940s I participated, as a student, in a course of the Biologische Anstalt Helgoland, held at its station on the island of Sylt. For the first time in my life I saw and admired the fascinating world of marine plankton organisms – a unique experience that turned out to be the key for my later decision to become a marine biologist.
Decades later, as Director of the Biologische Anstalt Helgoland, I strongly supported plankton research, long-term plankton programs and plankton courses.
Long-term plankton studies are an important instrument for analysing and understanding the dynamics of marine ecosystems. Hence, 'Inter-Research' published the 'Plankton Atlas of the North Atlantic Ocean 1958-1999' as a 2004 Supplement of 'Marine Ecology Progress Series'. Today, I am pleased to have been asked to write the Preface to this 'Coastal Plankton Photo Guide for European Seas' authored by Otto Larink and Wilfried Westheide. The 'Guide' fills an important gap. It is an easy to use and well illustrated introduction to common plankters in European coastal waters and it will attract many young marine scientists to the field of plankton research. Sound knowledge of plankton taxa is a basic prerequisite for sound plankton investigations.
I wish this important 'Guide' much success! I am confident that it will be consulted time and again by generations of students and researchers.
Otto Kinne
International Ecology Institute, Oldendorf/Luhe, Germany
Foreword by the authors – Second edition
Much to our pleasure the first edition of the Coastal Plankton Photo Guide was already out of print three years after its publication. Unexpectedly, it had found interested users not only in Europe but throughout the world, though originally designed for processing and determining plankton exclusively at European coastal areas. The new edition enables us to remedy a certain imperfection of the first one, namely the relatively scarce presentation of Mediterranean taxa. Recent excursions of both of us to Italian, French and Spanish marine stations now have considerably increased and diversified the number of photos with species and higher taxa from the Mediterranean Sea.
…
Otto Larink, Braunschweig
Wilfried Westheide, Osnabrück
October 2010
Foreword by the authors – First edition
This plankton book is neither a comprehensive taxonomic key that would enable someone to scientifically work up species diversity of the marine pelagial nor is it a complete textbook of planktology, and we certainly did not intend to update any standard plankton literature like Alister Hardy's natural history classic "The open sea" (1956). Just to explain what we had in mind when we planned to publish it, we should tell how it occurred to us to produce this book. During our active time in the universities of Kiel and Braunschweig as well as in Göttingen and Osnabrück, respectively, both of us taught a field course in marine biology every year. Preferentially these excursions took place on the island of Helgoland, but also at other places at the European coastline, where lab facilities in biological stations allowed dissections, preparations, demonstrations and especially the use of microscopes and other technical teaching and experimental equipment, e. g., in the stations of Kristineberg in Sweden, List on Sylt in Germany, Luc-sur-Mer, Roscoff, Arcachon, Villefranche-sur-Mer, Banyuls-sur-Mer in France and Giglio in Italy. An important obligatory part of all these excursions was dedicated to collecting plankton and demonstrating its most abundant components. Since both of us always transported a high-quality microscope with camera and electronic flash with us, we were able to take photomicrographs of a vast variety of organisms found in the plankton. Copies of these usually were placed at the students' disposal and included in their protocols. After more than 40 years and as many of these student courses, taking place at various seasons from early spring to late autumn, and including photomicrographs also from additional sampling trips to many other places in Europe and throughout the world, we realised that we had accumulated a quite large collection of plankton micrographs of the most typical forms, with inclusion also of the one or the other rare organism. It is no wonder that we both had the idea to compile these micrographs and publish them, especially because during all these years we and our students had suffered considerably from the fact that an adequate, simple to use, atlas covering the entire spectrum of common plankton organisms was not available. Fortunately, just before our retirement and just before we both had decided to delay no longer the arrangement of the micrographs for publication, we discovered our identical goals by chance and spontaneously made up our minds to combine our material.
Both of us are zoologists, thus our interest was focused mainly on the zoological components of the plankton. Nevertheless, a representative selection of phototrophic unicellular organisms has been compiled on quite a number of pages, enabling the general student user of the 'Guide' to recognise also the most abundant taxa of diatoms, dinoflagellates and some other microalgae. Almost all the microphotographs presented are of living organisms, although several of the metazoans were previously anaesthetised by a drop of MgCl2-solution. Since also most of the micrographs are given in their natural colours visible through the microscope, this 'Guide' illustrates plankton organisms rather clearly and recognisably allowing quite a number of species to be identified. Nevertheless, identification down to species level is not the true objective of the book. Plankton taxonomy is a far too serious discipline to be based entirely on photo illustrations. Exact determination needs the use of specific comprehensive keys and often will not be successful without the expertise of specialists for the various taxa considered. This photo guide merely wants to introduce and focus interest on the world of plankton, this most fantastic "paradise" for anyone who studies invertebrate zoology. Hence the intention of the book is mainly to share our own longstanding delights of exploring these organisms alive through the microscope, observing their various shapes and locomotion, admiring their natural colours, investigating their inner structures – organelles and organs – detecting their reproductive modes, following up their development, considering their adaptions to the environment and trying to find out their taxonomic affiliation. Indeed, as Alister Hardy put it: "It is no exaggeration to say that in the plankton we may find an assemblage of animals more diverse and more comprehensive than is to be seen in any other realm of life". Actually with the exception of nematodes, myriapods and insects representatives of every higher taxon in the animal kingdom can be expected in a plankton sample – and many only here and nowhere else. And this can be done completely without any sophisticated methods and elaborate machines, just by using a simple dissecting microscope and a normal compound microscope.
Generally all the photos show organisms living in the open water column and being truly planktonic. We felt, however, we should add some photos of adults from those taxa, of which only larvae occur in the plankton, being quite different in size and shape. Most of the photos have been taken on Helgoland and thus the main emphasis of the collection is concentrated on North Sea species. But also typical and common species of, e. g., the western Mediterranean are included. Since many of the North Sea forms have a wide distribution in European waters or differ only slightly from their closely related counterparts from other European coasts, this guide gives sufficient information on the majority of taxa for the entire coastline between West Sweden and Italy. This holds true, however, only for the plankton from the epipelagic zone of coastal waters – that zone, where with only modest equipment from land or from small boats student courses usually will obtain their plankton samples. This geographic-topographical boundary is what we treat when referring in the text to "in the area"; generally oceanic species and those from the mesopelagic zone are not considered.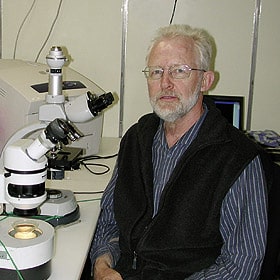 Prof. Dr. Otto LARINK is a zoologist. He studied morphology and developmental history of insects (PhD 1968 in Kiel, habilitation 1975 in Braunschweig). Later he was the head of a working group on soil zoology at the Technische Universität Braunschweig, till 2004. During annual courses at the Biological Station on the isle of Helgoland in the German Bight since 1963 and during various visits at European coasts he observed the diversity of plankton organisms and documented them with many micrographs presented here.
Contact: o.larink@tu-bs.de
---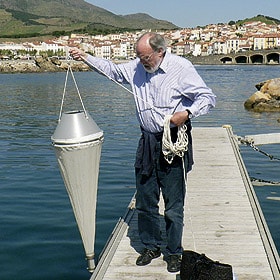 Prof. Dr. Wilfried WESTHEIDE is zoologist as well and focused in his research on systematics and morphology of invertebrates, especially annelids. After his PhD (1966) he was a scientific member of the Biologische Anstalt Helgoland for a short time, got his habilitation at the University of Göttingen and was head of the department of Systematic Zoology at the University of Osnabrück from 1983 to 2003.
Contact: westheide@biologie.uni-osnabrueck.de
We're here for you
Verlag Dr. Friedrich Pfeil
Wolfratshauser Str. 27
81379 Munich - Germany
Tel.: +49 (89) 742 827-0
Fax: +49 (89) 724 27 72
E-Mail: info@pfeil-verlag.de