Volume 11 Number 1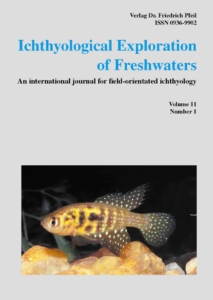 March 2000
pages 1-96, 51 figs., 24 tabs.
Larson, Helen K. and Chavalit Vidthayanon: A new species of the bumble-bee goby genus Brachygobius (Teleostei: Gobiidae), from the Mekong River system (p. 1)
Costa, Wilson J. E. M. and Dalton T. B. Nielsen: Simpsonichthys auratus, a new annual fish from the rio Paracatú drainage, São Francisco basin, Brazil (Cyprinodontiformes, Rivulidae) (p. 7)
Loubens, Gérard et Jacques Panfili: Biologie de Pseudoplatystoma fasciatum et P. tigrinum (Teleostei: Pimelodidae) dans le bassin du Mamoré (Amazonie Bolivienne) (p. 13)
López-Fernández, Hernán and Kirk O. Winemiller: A review of Venezuelan species of Hypophthalmus (Siluriformes: Pimelodidae) (p. 35)
Jenkins, Aaron P., Peter M. Buston and Gerald R. Allen: Two new species of freshwater gudgeons (Eleotrididae: Mogurnda) from Lake Kutubu, Papua New Guinea (p. 47)
Bogutskaya, Nina G., Fahrettin Kucuk and Erhan Unlu: Alburnus baliki, a new species of cyprinid fish from the Manavgat River system, Turkey (p. 55)
Pusey, Bradley J., Mark J. Kennard and Jason Bird: Fishes of the dune fields of Cape Flattery, northern Queensland and other dune systems in north-eastern Australia (p. 65)
Jesus, Célia Maria de and Orlando Moreira-Filho: Karyotypes of three species of Parodon (Teleostei: Parodontidae) (p. 75)
I-Shiung Chen and Maurice Kottelat: Rhinogobius maculicervix, a new species of goby from the Mekong basin in northern Laos (Teleostei: Gobiidae) (p. 81)
Sazima, Ivan, Francisco A. Machado and Jansen Zuanon: Natural history of Scoloplax empousa (Scoloplacidae), a minute spiny catfish from the Pantanal wetlands in western Brazil (p. 89)
Volume 11 Number 2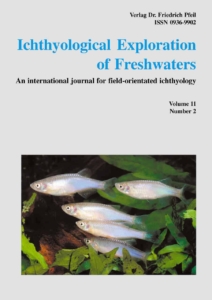 April 2000
pages 97-192, 37 figs., 12 tabs.
Ferraris, Carl J., Jr. and Richard P. Vari: The deep-water South American catfish genus Pseudepapterus (Ostariophysi: Auchenipteridae) (p. 97)
Vari, Richard P. and Hernán Ortega: Attonitus, a new genus of sexually dimorphic characiforms (Ostariophysi: Characidae) from western Amazonia; a phylogenetic definition and description of three new species (p. 113)
Steinberg, Ralph, Lawrence M. Page and Jean C. Porterfield: The spawning behavior of the harlequin darter, Etheostoma histrio (Osteichthyes: Percidae) (p. 141)
Fang Fang and Maurice Kottelat: Danio roseus, a new species from the Mekong basin in northeastern Thailand and northwestern Laos (Teleostei: Cyprinidae) (p. 149)
Lima, Flávio C.T. and Ricardo M. C. Castro: Brycon vermelha, a new species of characid fish from the Rio Mucuri, a coastal river of eastern Brazil (Ostariophysi: Characiformes) (p. 155)
Walsh, Stephen J., Lauren J. Chapman, Amanda E. Rosenberger and Colin A. Chapman: Redescription of Amphilius jacksonii (Siluriformes: Amphiliidae) with habitat and life-history notes (p. 163)
Presswell, Bronwen, Stanley H. Weitzman and Teresa Bergquist: Skiotocharax meizon, a new genus and species of fish from Guyana with a discussion of its relationships (Characiformes: Crenuchidae) (p. 175)
Volume 11 Number 3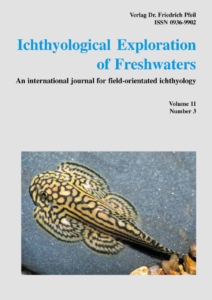 November 2000
pages 193-288, 57 figs., 10 tabs.
Pouyaud, Laurent and Guy G. Teugels: Description of a new pangasiid catfish from East Kalimantan, Indonesia (Siluriformes: Pangasiidae) (p. 193)
Vieira, Fábio, Carlos Bernardo Mascarenhas Alves and Gilmar Bastos Santos: Rediscovery and first record of Henochilus wheatlandii (Teleostei: Characiformes) a rare neotropical fish, in rio Doce basin of southeastern Brazil (p. 201)
Trajano, Eleonora and Flávio A. Bockmann: Ecology and behaviour of a new cave catfish of the genus Taunayia from northeastern Brazil (Siluriformes: Pimelodidae) (p. 207)
Freyhof, Jörg and Dmitri V. Serov: Review of the genus Sewellia with descriptions of two new species from Vietnam (Cypriniformes: Balitoridae) (p. 217)
Armbruster, Jonathan W. and Francisco Provenzano: Four new species of the suckermouth armored catfish genus Lasiancistrus (Loricariidae: Ancistrinae) (p. 241)
Pinna, Mário C. C. de and Kirk O. Winemiller: A new species of Ammoglanis (Siluriformes: Trichomycteridae) from Venezuela (p. 255)
Zhang E.: Revision of the cyprinid genus Parasinilabeo, with descriptions of two new species from southern China (Teleostei: Cyprinidae) (p. 265)
Books received (p. 272)
Buckup, Paulo A., Claudio Zamprogno, Fábio Vieira and Rogério L. Teixeira: Waterfall climbing in Characidium (Crenuchidae: Characidiinae) from eastern Brazil (p. 273)
Soares-Porto, Luisa Maria: A new species of Centromochlus (Siluriformes: Auchenipteridae) from the rio Negro drainage, Amazon basin, Brazil, with comments on its relationships (p. 279)
Books received (p. 288)
Volume 11 Number 4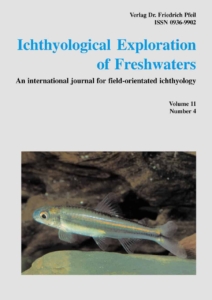 December 2000
pages 289-384, 61 figs., 11 tabs.
Toledo-Piza, Mônica: Two new Heterocharax species (Teleostei: Ostariophysi: Characidae), with a redescription of H. macrolepis (p. 289)
Britz, Ralf: Aspects of the reproduction and development of Indostomus paradoxus (Teleostei: Indostomidae) (p. 305)
Malabarba, Luiz R. and Richard P. Vari: Caiapobrycon tucurui, a new genus and species of characid from the rio Tocantins basin, Brazil (Characiformes: Characidae) (p. 315)
Kullander, Sven O., Ralf Britz and Fang Fang: Pillaia kachinica, a new chaudhuriid fish from Myanmar, with observations on the genus Garo (Teleostei: Chaudhuriidae) (p. 327)
Ng, H. H. and M. Kottelat: A review of the genus Amblyceps (Osteichthyes: Amblycipitidae) in Indochina, with descriptions of five new species (p. 335)
Fernandez, Luis A.: A new species of Trichomycterus from northwestern Argentina (Ostariophysi: Trichomycteridae) (p. 349)
Lamboj, Anton and Jos Snoeks: Divandu albimarginatus, a new genus and species of cichlid (Teleostei: Cichlidae) from Congo and Gabon, Central Africa (p. 355)
Meisner, Amy Downing and Kristina D. Louie: Nomorhamphus kolonodalensis, a new species of viviparous halfbeak from Sulawesi (Teleostei: Hemiramphidae) (p. 361)
Campanario, Carla M. and Mário C. C. de Pinna: A new species of the primitive trichomycterid subfamily Copionodontinae from northeastern Brazil (Teleostei: Trichomycteridae) (p. 369)
Pereira, Edson H. L., José C. Oliveira and Osvaldo T. Oyakawa: Hemipsilichthys papillatus, a new species of loricariid catfish (Teleostei: Siluriformes) from Minas Gerais, Brazil (p. 377)